profiq's Technical Research Team
Posted 3 years ago by Gabor Puhalla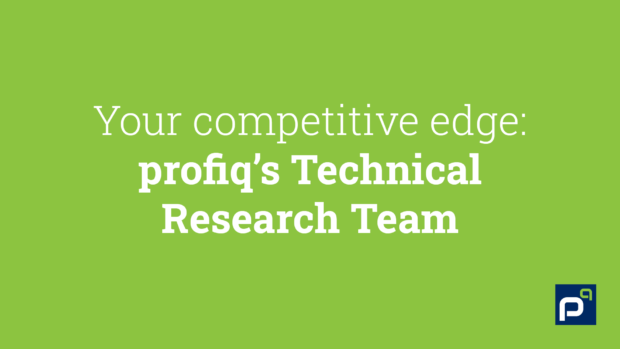 If you've visited our website, profiq.com, you've likely noticed a heading on our Your Team page that claims "Technology and a love of learning are in our DNA". If you've wondered what that means in real life, this article is for you.
It's in our nature as a global software service provider to explore and quickly become proficient in new and emerging technologies, as well as consider potential applications, and even future improvements.
With new technologies being created and improved rapidly, we always have to think ahead. This lets us provide the highest levels of service, keeps you, our customer, ahead of the curve, and helps reduce the risk involved in the adoption of new technologies.
Your competitive edge: profiq's Technical Research Team
One of the ways we help you stay on top of technology trends is through our Technical Research team of software engineers. Led by Milos Svana, the team is dedicated to both test driving the capabilities of new and exciting technology, and researching emerging concepts that have not yet been developed. In addition to leading the team, Milos is currently doing a PhD in Systems and Engineering and Computer Science.
Demoing and blogging about emerging technologies
"Our team usually spends a few months deep-diving into a product by installing and configuring it, using it, integrating it with other technologies, and, on occasion, breaking it," said Milos.
"Once we've finished, we frequently publish a technical article about it to our blog, share any issues we've found with the technical community, and/or create a plugin or extension of the product for anyone to use. You can check out our code*, 16 repositories (and growing), thought leadership, technical leader roundtables, and more on GitHub."
These deep dives benefit the tech community by providing fixes and improvements for software bugs, creating new plugins that anyone can use, or demystifying processes such as configuration or installation.
For example, we've written plugins for ForgeRock that have enhanced the capabilities of their identity and access management products and wrote a series of articles in our blog. You can read about how we integrated ForgeRock's directory services with Liferay, with Samba, and with example-plugin.
The companies whose products we've explored occasionally recognize our work by publishing it on their blogs, as Kinetica did when we created a demo app using their new GPU database, and Mulesoft in two separate blog posts, here and here, when we integrated GitHub notifications on Twitter using one of their products, Anypoint Studio. They also give awards, as Liferay did by naming software engineer Jan Hajovsky a Top Contributor.
Researching nascent concepts
We are also interested in researching nascent concepts that may have potential for future developments. "We are currently researching the science behind computer-generated speech," said Milos, referencing the "speaking piano" as one example of synthesized speech. Past projects have included options to project 360-degree videos on mobile devices.
We'd love to hear from you
Would you like to learn more about our Technical Research team and our work? Are you interested in working with us? Do you have suggestions for interesting technologies we should explore? If this article has piqued your curiosity, then please reach out to us at [email protected] or on LinkedIn.
*  Please note that the code is not enterprise quality; it's experimental, and reflects the need to try, fail, and adapt new approaches, versus long-term development needs.
Gabor Puhalla